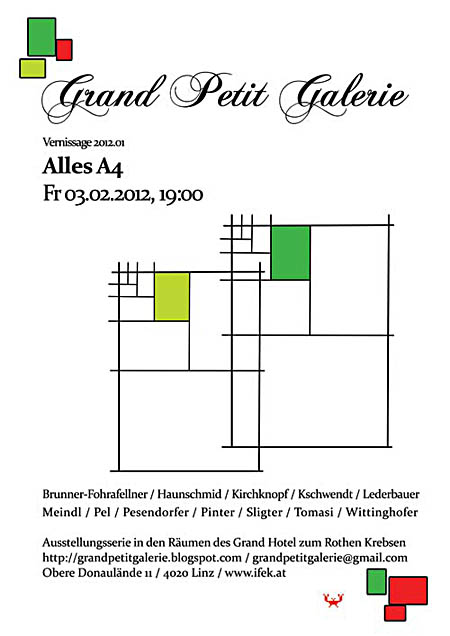 (English version below)
Beteiligte KünstlerInnen: Andrea Brunner-Fohrafellner, Gerda Haunschmid, Michaela Kirchknopf, Wolfgang Kschwendt, Monika Lederbauer, Dominika Meindl, Eva Pel, Daniela Pesendorfer, Klaus Pinter, Jessica Sligter, Norbert Tomasi, David Wittinghofer
Eröffnungsrede: Tanja Brandmayr
Als in den 20er Jahren des vergangenen Jahrhunderts das Din Format definiert und festgelegt wurde, hätte wohl noch kaum jemand gedacht, dass diese simple Norm eine so starke Dominanz erlangen würde. Und so wurde es mittlerweile schon fast wieder zu einem kreativen Standard, das Din-Format zu unterwandern und der Norm nicht zu entsprechen. Ob Schulhefte, Ordner, Inkjet-Drucker oder sogar Urkunden — A4 herrscht als Standard vor.
Die Grand Petit Galerie zeigt Arbeiten von Künstler/innen, die das Experiment des Ausbrechens schon hinter sich gebracht haben oder erst gar nicht starten wollen und stattdessen das Vorgegebene analysieren.
english version:
Everything A4
participating artists: Andrea Brunner-Fohrafellner, Gerda Haunschmid, Michaela Kirchknopf, Wolfgang Kschwendt, Monika Lederbauer, Dominika Meindl, Eva Pel, Daniela Pesendorfer, Klaus Pinter, Jessica Sligter, Norbert Tomasi, David Wittinghofer
opening speech: Tanja Brandmayr
In the 1920ies – the international standard A4 has been intruduced. Who would have thought at that time, that a simple norm like this could gain such a high importance within only a few decades. By now it can almost be seen as a creative challenge to break with this regulation and to undermine the norm.
No matter if it's a school book, an inkjet printer, a folder or even high priority documents – A4 remains predominant.
The Grand Petit Gallery shows works by artists who are already beyond this experiment of breaking out or don't even seek to do so, but rather try to analyse what is given.
For "Everything A4" we collect works working with/on/for the predetermined A4 format.
Bilder von der Vernissage wurden freundlicherweise von der Grand Petit Galerie zur Verfügung gestellt.